#ChasingArt
Persiguiendo el Arte (Chasing Art)
by Karen Gormandy, Fountain House Studio Director
For the last three museum trips the weather was freezing, so, no surprise, it was freezing again. This time we were able to wait inside the quiet and welcoming lobby. El Museo del Barrio is on the upper stretch of museum mile and incredibly understated. While it's a joy to have enough space to navigate around and enjoy the art, more people should be aware of this New York City gem.
This trip we weren't chasing anything specific but rather chasing the history and richness of our Latino neighbors, relatives and ancestors.
El Museo del Barrio, often known as El Museo, was founded in 1969. Spurred by concerns over a lack of cultural diversity in New York City's educational system, a group of African-American and Puerto Rican parents, educators and community activists in Central and East Harlem, known as El Barrio, demanded their children receive an education that acknowledged and addressed their diverse and cultural heritages.
El Museo specializes in Latin American and Caribbean art, with an emphasis on works from Puerto Rico and the Puerto Rican community in New York City. It is the oldest museum in the country dedicated to Latino art. The building is a former fire station where during the height of the Nuyorican and Civil Rights Movement, books were burned by radical political figures.
We arrived at 2pm. Lucky for us there was a docent tour scheduled for 2:30pm, we wondered around Domesticanx for 30 minutes.
Domesticanx, on exhibit until March 26, consists of works of intergenerational artists offering windows into private spaces of healing, spirituality, decoration and home. Curated by Susanna V. Temkin, the show is inspired by the concept of "domesticana," first theorized by artist, scholar, and critic Amalia Mesa-Bains in the 1990s. Mesa Bains' statement of the show states; "The redefining of the feminine must come from the representational vocabularies of women if we are to undo the wounds of patriarchy and colonization. That is the challenge of new views of space, of the new domesticana defiance."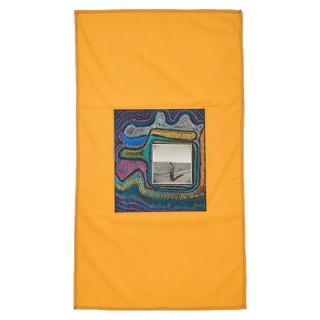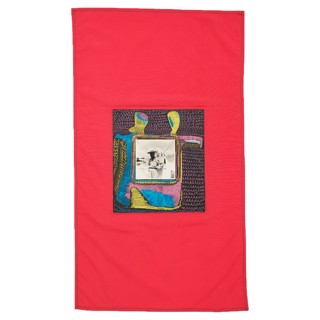 Photos courtesy of Latina Magazine
Works in the exhibit ranged from Nitza Tufino's Scenes from Home to Homenaje Tenderete works in ink, colored pencil and gesso on recycled food canisters. In Scenes from Home photos of family and ancestors are set against colorful purple, orange, yellow, red and blue flags that hang like clothing on a tropical clothesline in the center of the room. In Cielo Felix-Hernandez's paintings, she centers a curvy brown woman in a yard tending her chickens and cooling down with a garden hose. The brown, gold and sepia palette, evoking sun and earth. There was more; fabric pieces of bedrooms, dining rooms and living rooms — places where families gathered, reminisced, reflected about the past and forged the future.
Thirty minutes are up and we meet the docent in the lobby.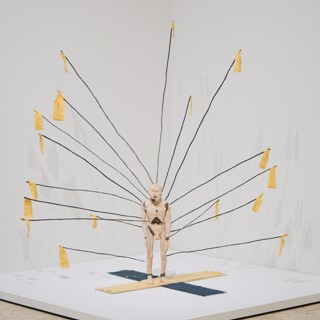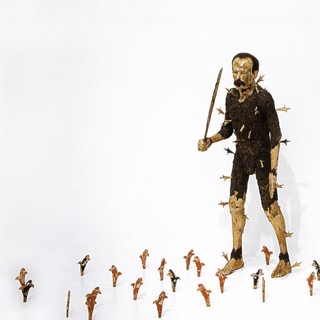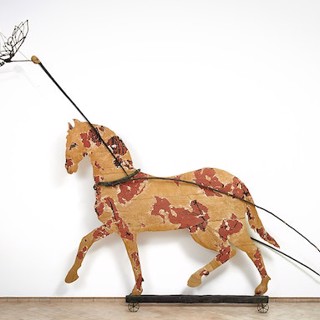 Works by Juan Francisco Elso. Photo courtesy of El Museo del Barrio
The tour focused on Por América, which also closes on March 26, 2023. Por América investigates the work of artist, Juan Francisco Elso (1956-1988) and was organized by El Museo del Barrio and curated by invited guest curator Olga Viso in collaboration with El Museo curator Susanna V. Temkin.
Born and educated in post-revolutionary Cuba, Elso emerged as part of the Volumen Uno (Volume One) generation of contemporary artists who gained international recognition in the early 1980s.
Presented in context, Por América was organized into several interrelated thematic sections including not only Elso's work but 45 works of 30 close colleagues and fellow artists with parallel or similar affinities active in the Caribbean, throughout North, South, and Central America.
The featured piece, Por América (José Martí) is a wood, plaster, earth, pigment, synthetic hair and glass eye piece. This, as the other pieces in the show, examines the complex formations of contemporary Cuban, Caribbean, and Latin American identities, as inflected by the cultural influences of Indigenous traditions, Afro-Caribbean religious beliefs, as well as the traumas of colonial oppression. The figure is less than life size; a deliberate choice to depict a hero.
In Dando y Dando, by Belkis Ayon and Angel Ramirez, two figures framed by black gothic arches reach hands yet don't touch. One figure is haloed and attired in medieval European garb, the other is faceless except for its eyes. The piece evoking a reaching but never touching of African religion banned by Europeans and the Catholic Church.
Photo courtesy of The New York Times
Elso's Transparency of God consists of three large scaled pieces using natural, organic materials; El rostro de Dios, a mask visage of god that hangs from the ceiling; it's design inviting the viewer to gaze through god's eyes at La mano creadora (The Hand of the Creator) reaching over to the Corazon de America (Heart of America).
Our docent invited questions and presented food for thought. Food for thought spurred by history, the complex nature of the ever changing world around us and how these aspects inspired the artists and their work.
New York City is a melting pot that bears witness to the impact of cultures upon each other. The art of El Museo del Barrio provided insight on that influence; good, bad or uncomfortable; of generations of cross cultural interactions and behaviors.
We ended our day with snacks and coffee at the Church of Heavenly Rest's Bluestone Cafe. The church that hosted the incredible SEEN photo exhibit of the Fountain Gallery artists.
Our next monthly museum in March 18, two days before the Spring Equinox, fingers crossed for milder weather. ●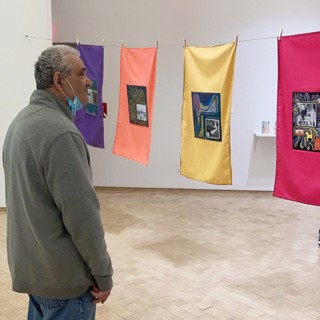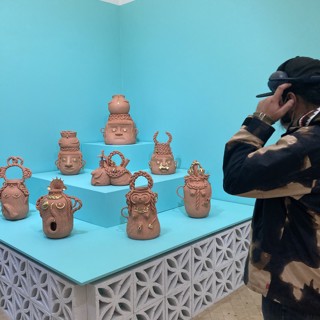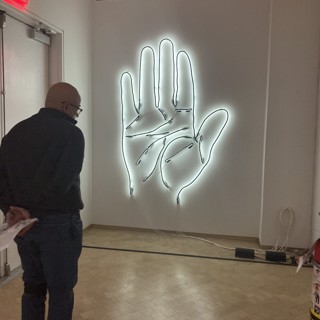 Fountain House members Roger Jones and Arturo Sitjar. Photos courtesy of Karen Gormandy and Becky Wilkening.
DOMESTICANX and Juan Francisco Elso: Por América are on view through March 26, 2023.
El Museo Del Barrio
Thurs-Sun
11 am–5 pm
1230 5th Avenue
New York, NY 10029
For tickets and info, please visit elmuseo.org.
#ChasingArt is a blog series by Fountain House Studio Director, Karen Gormandy, that reveals highlights and thoughts from our monthly museum trips.
On the third Saturday of each month, Fountain House Studio invites its members on an excursion to visit one of the hundreds of art museums across New York City. Read about past trips here.
Want to learn more about the Fountain House Studio? Visit Studio.