In These Uncertain Times
1/20/2017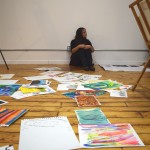 In These Uncertain Times
By: Karen Gormandy
On Tuesday, January 10, ten talented Fountain Gallery artists, Ariel Willmott, and Amanda Suárez got together to work for the first time at our new Long Island City art studio. The studio had been a long time dream of gallery director Ariel Willmott and through her unstoppable efforts that dream became a reality for the expanding number of talented gallery artists.
Susan Spangenberg, one such prolific artist, agreed to facilitate this inaugural workshop IN THESE UNCERTAIN TIMES. Though Susan is sensitive and prefers creative solitude, the idea of repurposing abandoned art work resonated with her.
Susan Spangenberg
The workshop seemed fitting, not only as a response to the changing world, but to Studio One. Over the years artwork created at Studio One has been abandoned. The body of accumulated work, a visual testament, stunningly beautiful aspects of self have been left behind and forgotten: hundreds of pencil, watercolor and acrylic pieces of hands, faces beautifully rendered or carelessly colored outside the lines, sometimes color was more important than the form; jagged tentative or fiercely blackened and heavy handed lines, corners of rooms, sparsely furnished; still lives, placid, calming or sometimes lonely. The images unconsciously revealing unrecognized aspects of their creators. Days before the workshop Susan had looked through the work -- she too had once destroyed or threw away her own work, "one time" she said "my boyfriend even dove into a dumpster to retrieve it."
Susan arranged the chairs in a circle and asked us to sit. We did. She then asked, "Are you comfortable?" We nodded. Then she said, "Good, get up and switch seats."
Artists at work
In her own work, Susan attempts to break form, to draw with a different and new materials, to paint with the opposite hand and even work blindfolded. "It is most of the time uncomfortable, not relaxing but always impulsive, cathartic, exciting and therapeutic."
Leading us she continued, "How many of you work in paint?" "Draw, work small? Tonight you are not going to do any of that. For those of you who work sitting, stand, if you work standing, sit, if both, work on the floor."
We spent two hours creating. We even danced at the end.
Susan has since learned to value her work, having sold pieces at both Fountain House Gallery and Mad About Art – "For me art is a process of discovery and one I hope will never end."
Having fun at the studio
We look forward to more workshops, more artists creating and maybe more dancing. Stay tuned!