Fountain House Artwork on Display at One Penn Plaza
7/26/2017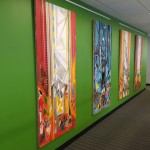 Fountain House Artwork on Display at One Penn Plaza
By: Ryan Thomas, Corp Content Specialist at Beacon Health
Our New York City Engagement Center at One Penn Plaza recently acquired artwork for their conference room and main hallways made by local artists living with mental health issues. The Fountain House Gallery is an art gallery and studio space founded in 2000 in New York City with the belief that "People living with mental illness can be active participants in their own and each other's recovery."
Fountain House provides an environment for their artist-members to express their creative visions and exhibit their work, and the gallery sells the original works throughout the world by collaborating with a wide network of artists, curators, and institutions.
The different pieces of art hanging in our NYC Engagement Center were made by two artists, Barry Senft and Martin Cohen:
Barry is a self-described "artist of many styles," and he works in mediums from pencil and painting to sculpture and collage, favoring intense colors. His work was featured in the Fountain House Gallery two-person show Urban Faces. While Barry has a formal art education through the School of Visual Arts, the Center for the Media Arts, and Pels School of Commercial Art, this is not a requirement for Fountain House artists.
Martin incorporates mixed media in his art, including photographic cutouts and found objects in his abstract expressionist oil paintings and paper pieces. He received a BFA from SUNY Purchase and a MFA from Carnegie Mellon, and has had a number of solo art shows in his career. Martin was a winner of the prestigious Wynn Newhouse Award in 2012, which provides grants to artists of excellence who happen to have disabilities.
"This is very exciting and it's wonderful to be supporting local artists living and working with mental illness. It's what living to the fullest potential is all about, and I am happy to be able to support that in this manner," said Jorge Petit, Regional Chief Medical Officer.
There are plans for additional artworks to go on display in our Two Penn Plaza location next, so stay tuned for more photos of excellent work. We are looking forward to continuing our support of the mental health community, not just in NYC, but across the country.
A celebratory reception was held on Thursday, August 10, 2017.