Fountain House Gallery Hosts Open Studio in Long Island City
8/22/2017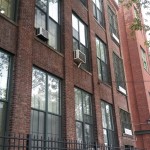 Fountain House Gallery Hosts Open Studio in Long Island City
By: Camille Tibaldeo
Fountain House Gallery artists Martin Cohen and Barry Senft
Fountain House Gallery recently hosted an Open Studio evening at Fountain House Studio in Long Island City, where artists and guests convened to celebrate completion of the first term of Artist Residencies. In the inaugural group of Resident Artists whose work was on display at the event were: Martin Cohen, Bernadette Corcoran, Stephanie Freader, A. Lutz, Julie Orton, Angela Rogers, Barry Senft, Alyson Vega, and Boo Lynn Walsh.
Some of these first-term artists will continue into the next term of three-month residencies at the Studio, joined by additional artists who will be embarking upon their first residencies. Residencies are awarded via an application process.
"Fountain House Studio provides member-artists with the resources, training, inspiration, and support they need to succeed in the highly competitive art world," said Fountain House Gallery Director Ariel Willmott, who orchestrates Studio activities with the support of Studio Coordinator Karen Gormandy, Studio Assistant Betty Eastland, and Gallery Assistant Amanda Suárez.
Resident Artists are assigned dedicated workspaces during the term, and the Studio also offers drop-in hours during which all Gallery artists and Fountain House members are welcome to use the space for artmaking. Art supplies are provided free of charge.
Securing a studio space in which to work was a long-held dream of the artists of Fountain House Gallery; that dream became a reality this year. The establishment of Fountain House Studio has been made possible primarily through the generous support of individual donors.
The Studio is located in the Silks Building, one of the pre-eminent landmarks in Long Island City, at 37-24 24th St., Suite 203.
Stay tuned for updates on Fountain House Studio activities and events!
The Silks Building, Long Island City