The Peaceable Kingdom
9/12/2017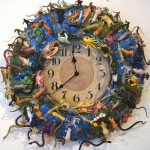 the peaceable kingdom
By: Camille Tibaldeo
Fountain House Gallery kicked off its new season of exhibitions with an opening reception for The Peaceable Kingdom on September 7, 2017. An appreciative crowd turned out to get a first look at the show, which features more than 40 works by 35 artists and is curated by Cara Zimmerman, Vice President, Specialist in Outsider and Folk Art, Christie's.
Deborah Standard, Time is Ticking for All
"The works in this exhibition are incredibly sophisticated and tackle with depth and integrity the elusive concept of the Peaceable Kingdom," said Zimmerman. "At its core, the Peaceable Kingdom is an exploration of harmony and coexistence, and the range of approaches into this subject—from reinterpretations of Edward Hicks's famous paintings of the subject to social commentaries denying the idea's current existence—are exciting looks at an enduring quest for accord as well as at the challenges and joys of twenty-first-century life."
Gallery Director Ariel Willmott with curator Cara Zimmerman
"The wolf also shall dwell with the lamb, and the leopard shall lie down with the kid; and the calf and the young lion and fatling together; and a little child shall lead them." (Isaiah 11:6) In the nineteenth century, renowned Pennsylvania painter Edward Hicks (1780-1849) used this Bible passage to visualize a harmonious and perfect world. He created more than 60 Peaceable Kingdom paintings—of predators and prey resting in harmony, Native Americans and Colonists coexisting, and bucolic landscapes free from human intervention—each highlighting his Quaker desire for a tranquil world.
Hicks's paintings are the inspiration for this exhibition. Today, the concept of Peaceable Kingdom can push far beyond Hicks's religious reference to address a wider concept of a perfect world. The works in this exhibition explore what a Peaceable Kingdom is and is not, and how this Kingdom might look in the twenty-first century.
Fountain House Gallery artist George Peñón Cassallo created the bold and witty art piece that appears in all promotions and advertising for this show. Entitled Wonder Woman Saves the World, George's mixed media work depicts the fictional superhero, a symbol of female empowerment, balancing an animal kingdom above her head.
George Peñón Cassallo, Wonder Woman Saves the World
If you haven't yet seen this intriguing and diverse exhibition, stop by Fountain House Gallery and have a look. The Peaceable Kingdom will remain on view through October 18, 2017.