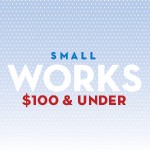 small works: $100 & Under
By: Camille Tibaldeo
Opening Reception
Our annual "Small Works: $100 & Under" show opened on Thursday, October 26 at Fountain House Gallery. Artists and art lovers, friends and patrons turned out in force to celebrate this lively exhibition, which over the years has become a crowd-pleasing favorite.
Boo Lynn Walsh's acrylic landscapes
Opening-night sales were strong, and a number of buyers new to the Gallery were delighted to meet the artists whose work they had selected. This show will run until just before Christmas, so there will be ample opportunity for collectors to snap up more of these small-scale gems.
Lewis Pujol, Oconaluftee River Valley, No. Carolina
The exhibition features works sized at 5 by 7 inches or less and priced at $100 or under. For this show, artwork submissions are accepted not only from Gallery artists but also from the wider Fountain House community. And this year's contributing artists outdid themselves, creating more than 300 original works! Among the dazzling array of mediums represented are collage, mixed media, acrylic and watercolor painting, digital art, and photography.
Installation Shot
Past Fountain House Gallery "Small Works" shows have been a rousing success with holiday shoppers and collectors. In addition to affordability and variety, this show offers an added benefit: portability. Artworks purchased during most exhibitions must remain on display at the Gallery until the show closes. But "Small Works" buyers can take their selections with them, right off the wall. As a work is sold and removed, it is replaced with another from the Gallery's "stash." The exhibition is thus continually evolving and evergreen throughout the run.
Jasmine Soto, Fountain
If you haven't yet seen this kaleidoscopic show, do stop in and feast your eyes. "Small Works" will remain on view through December 22.