Storytelling
11/30/2018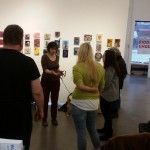 storytelling
By: Rich Courage
Storytelling. It's an art. You paint pictures with words that tickle the mind into seeing people, places, dogs, tigers, stormy seas and blue skies. History is just a bunch of stories after all. Before computers, stories where you shared experiences, the best ones being turned into books for all to enjoy. There was recently a storytelling workshop at the Fountain House Gallery, the Gallery for Fountain House member artists. Here's how I saw it.
I was standing outside the Fountain House Gallery on a blustery November afternoon, puffing a Newport and sipping a hazelnut coffee from the bodega when another member, young woman, walked up to me and asked if I was going to the Gallery's storytelling workshop. I said, "yeah" and we chatted about this and that. A few minutes later, this tall thin guy in a blue baseball cap went into the gallery and I wondered if he was the guy running the workshop. We went in and said hi to him. He was the guy. His name was David, he was very laid back and he invited us to sit anywhere in a circle of black plastic folding chairs. The gallery had the small works show and the walls were plastered with about a hundred or so small artworks, from watercolors and acrylics to photos and fabrics. It was a very nice, inspiring atmosphere.
A few other members came in and we got started. David told us about the Moth, a popular venue in the city held in various boroughs where anyone can show up and perhaps be picked, at random, to tell a personal story. The theme is always different, decided upon on the spot, and could be on any subject. Water. Revenge. Addiction. Family. Whatever!
You show up at a Moth event and, if you want to tell a story, you toss your name into a bowl and the host picks ten names. Later, there's a vote and you could win a prize for best story of the evening. David told us he'd won a few times and it made him feel much validated.
David started the workshop by telling us a touching seven minute story about his Dad. Then we all stood up to do a storytelling exercise. David began telling a story. After a few moments, one of us tapped him on the shoulder and started telling a different story using one of the key words from David's story. Like, David would say, "I ate the world's best donut!" and maybe the next person would tap in and say, "I was so fat, I looked like I had a donut around my waist." and the next person would tap in and say, "I had a fat wad of twenties to spend at Atlantic City," and so on. Everyone was smiling. It was mad fun, yo."
After a few rounds, we all sat back down and began taking turns telling our own personal stories.
Unlike the Moth, we had no theme, but the purpose of the workshop was for us to begin feeling comfortable just telling a story out loud in front of an audience.
One man told about a train ride to Hungary with his mom when the Iron Curtain was coming down. He said that train ride changed his opinion of his mother dramatically. She wasn't perfect after all. A woman spoke about having used cocaine to avoid feeling depressed over the loss of her twin brother. Very moving. Still another member spoke about his turbulent childhood. Alcoholic dad. Manic depressive mom. Very sad. After each person finished, each story running about seven minutes long, we tossed some comments around. The only rule was no negative vibes.
And then we were done, and we went back out into the world to write our own stories on the mean streets of New York. I felt very relaxed. Like I had taken a bath in a tub full of poetry; and the stories continue.