Fountain House Gallery's "Mad About Art"
11/30/2018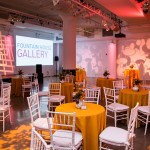 Fountain House Gallery's "Mad About Art"
By: Ella Veres
"Mad About Art," Fountain House Gallery's Annual Art Auction and Benefit, took place on November 13, 2018, at the venue Metropolitan West. The evening was a rollicking success, artistically and financially.
I had sorted through my vintage gown archive to find something to wear to the event and came up with two dresses – alas, both of them were suitable for a slimmer silhouette. I opted for a pencil dress in a turquoise and blue pattern. It fit me like a sausage casing, but by the night of the event I was thrilled to discover that the gown was loose on me, likely thanks to my cleansing prep for a medical test the day before.
I was buoyant as I entered the party hall. Attendees, nearly 400, were everywhere, attired in well-tailored suits and smart dresses – holding small plates and cocktails, chatting, smiling, inching by the three walls of art pieces. The floral arrangements, courtesy of the Home & Garden Unit, were works of art in themselves. The wait staff offered trays of sumptuous appetizers, and tempting food stations beckoned. My fellow artists and I partook. I sampled cheese and grapes and placed grilled zucchini rolls stuffed with ricotta cheese, and beef with polenta, on a plate.
I made my way toward the artworks, curated by Scott Ogden, artist and Owner/Director of Shrine NYC. What beautiful paintings, alongside pieces in many other mediums! My colleagues and I stood in front of our work and greeted guests during the "Meet the Artists Hour." When I received compliments on my red-and-yellow- and-everything-in-between abstract with antique purple and gilded frame, I explained that while working on the piece I was thinking a lot about my grandfather and great-grandfather who had been blacksmiths, primarily making horseshoes with their firing forges.
Owner/Director of Shrine NYC, Scott Ogden, with wife Tess Reichlen
The silent auction began, and we were off to the bidding wars. Of course I was nervous about whether my painting would sell, but it takes just one person to get the ball rolling; that's what I tell my son when he worries that he won't find the right woman. And here was the person who would become my winning bidder: He excitedly told me how much he loved my painting and texted a photo of it to his husband, who signaled his approval from the sickbed where he was nursing a cold.
Art by 57 Gallery artists was on display, and Roger Jones's work was near mine in the lineup. Roger is a keen businessman who sells his hand-made jewelry creations from a table at a church flea market on weekends. At the benefit, he welcomed guests with a beaming smile and, "Hi, I'm Roger...this is my artwork...that one is by Ella Veres and that one is Laura Anne Walker's...very talented artists!"
The program emcee was the Pulitzer Prize-winning Jerry Saltz, Senior Art Critic of New York magazine, who praised Fountain House Gallery and regaled us with his witty take on the art world. We watched a video filmed at the Gallery and at Fountain House Studio in Long Island City, in which my fellow artists spoke about the importance of art in their lives and how much it means to them to be appreciated at Fountain House.
The recipients of the Esther Montanez Leadership Award were: "CBS Sunday Morning" host Jane Pauley, who has spoken out over the years about her experience of living with bipolar disorder; and noted artist Donna Moylan, who serves on the Fountain House Gallery Art Advisory Council and is the mother of a Fountain House member. The remarks by both of these accomplished women were gracious and inspiring.
Artist Donna Moylan and "CBS Sunday Morning" Host Jane Pauley
Although the sale of our artworks was via silent auction, we were fortunate to have a professional auctioneer to conduct the Paddle Raise and live auction of luxury items. This master, wearing bright red socks, was C. Hugh Hildesley of Sotheby's, the renowned auction house. In rapid-fire delivery, he exhorted attendees to give generously. He said that many of the artworks on display at the benefit were superior to some he had sold for millions of dollars – and added that one of us might be the next Picasso! Mr. Hildesley hit a home run in his efforts to raise funds in support of our programs.
As the event drew to a close, volunteers wrapped artworks acquired by winning bidders, and we were told we could take the floral arrangements. I enfolded a bouquet in paper towels. I would let the flowers dry on their stems, pluck the dried blooms, put them on a tray and then pour clear resin on them, capturing them in amber.
The evening had flown by, and outside I caught up with two artists I love. As we headed home in the chilly air, we traded impressions of the night's happenings. It was a fitting conclusion to my "Mad About Art" adventure.