An Autumn Celebration at Fountain House Studio
10/22/2019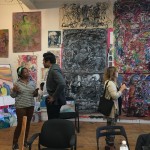 An Autumn celebration at fountain house studio
By: Rich Courage
Fountain House Gallery has a studio in the Silks Building in Queens, where uniforms and parachutes were made during WWII – and where Fountain House members conceptualize and give birth to creative wonders. On October 8th, the Studio had a party/open house to showcase several of the resident artists' brilliant creations. Here's some of what went down.
I showed up early at the Silks Building with another member, Robert Ferrara, in tow. Robert, the superlative drummer for the Jazz/Blues FH band Our House, is an old-timer like me. Very down-to-earth, blue collar style, strongly opinionated, big-hearted guy. I told him about the FH Studio and he asked if he could try making art there. I suggested he accompany me to the open house party so he could see for himself.
We stopped just outside the building and I lit up a Newport. Robert asked me, "What color flowers do you want?" "For what?" I asked. "At your funeral." he said. See, Rob had quit smoking and wanted me to live to see my 60th birthday. I ditched the cigarette. We entered the Studio and bumped right into Ariel, the Director of Fountain House Gallery, speaking to Ashwin Vasan, Fountain House's spanking new President and CEO. I was barely in the door when Ashwin gestured at me and said, "I saw you in a video." "Which one," I asked. "Kenn's retirement party," he answered. In that video, I poked merciless fun at Kenn, our previous Director, all in good taste and fun of course. "You're next," I said. Ashwin smiled, and Robert and I entered the Studio. The space, which usually has five to fifteen people working with paints, watercolors, etc., had been transformed into a full-blown art extravaganza! Every wall, window and table space had become an easel for fantastic windows into the souls of the member-artists. Robert exclaimed, "Wow. This joint is jumping." So we dived in.
President Ashwin Vasan with Gallery Director Ariel Willmott
Sasha, an energetic young man who plays a mean acoustic guitar, had huge abstract-ish murals depicting the world as he saw it. Rene, a man who also excels at the art of tattooing, had a plethora of acrylic portraits and paintings. My personal favorite was the Silver Surfer, a Marvel Comics cosmically endowed superhero. Boo Lyn, an almost always smiling woman who can play drums with the best of them, constructed a marvelous faux tree bedazzled by LED lights. When she hit a remote control in her pocket, the lights were swept up in waves of changing colors. Magical.
Angela, a lady with a magical imagination, filled her corner with a veritable rainbow of whimsical creatures from her fertile imagination. Issa, a gentleman who has been a longtime luminary of the famous Living Museum, built a wonderful grove complete with green grass and Krypto! Who's Krypto? Superman's pet dog! Wunderbar! Don'ae, a young lady who sings like an angel, created neoclassical paintings which Agnes Gund, President Emerita of the Museum of Modern Art, found to be wonderful. Roger, the hardest-working artist in show biz, created a buzz with his abstract T-shirts. L.B., which stands for lovely and beautiful, a great lady and flawless van driver, exhibited a variety of abstract small works to the delight of the guests. Guiomar, an ingenious lady who designs gorgeous high-end clothing, displayed an intricate mosaic which garnered much appreciative attention. Gary, painter extraordinaire, proffered some breathtaking impressionistic landscapes. Ella, a brilliant writer who chose to work on her art during the party, displayed a rather marvelous mosaic of blue wonders.
Roger Jones posing with his artwork
And let's not forget Karen, the guiding force of the Studio, and her touching soft pastel portrait of her son.
Carol, a member of the FH Gallery Advisory Board, dressed all in black, approached me as I stood admiring Krypto while nibbling a baklava. "How are you?" she inquired. "I'm enjoying the shindig. How are you, Carol? You look great," I answered. "I look like Johnny Cash's sister," she said. I laughed, and we chatted briefly as the animated party swirled around us. I steered the conversation back to the art, which she adored. Then Bill, Chair of the FH Board, said, "I loved your speech at Kenn's retirement garden party. It was heartfelt." I thanked him, and steered the conversation back to the art, which he admired greatly. And so the evening went. "Hi Rich." "Hi. Isn't that a great piece of art?" And so on.
Robert came up to me as the Studio was emptying out and said, "So you're in with the artsy crowd, eh?" "Pretty cool to work here, yeah, it is," I answered. "So, what do you think of the Studio?" "I'm freaking flabbergasted. Amazing talent from FH. Amazing." "You gonna buy any of the work?" "Do you take food stamps? Ha! I'm on SSD. Fuggetaboutit!! I wish I could though, it's all out of this world cool and amazing." And with that, Rob and I went off into the night to Rudy's bar on 9th Avenue to talk about art and baseball and everything and nothing. So it went.
The following luminaries in attendance at the party have all curated shows at Fountain House Gallery:
-Frank Maresca: Partner, Ricco/Maresca Gallery, member of the FHG Advisory Board;
-Phong Bui: Publisher and Artistic Director, The Brooklyn Rail, member of the FHG Advisory Board;
-Agnes Gund: President Emerita, Museum of Modern Art, member of the FHG Art Advisory Council.