Fountain House Gallery at Outsider Art Fair
1/30/2020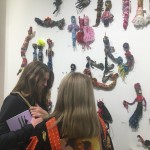 Fountain House Gallery at Outsider Art Fair
By: Camille Tibaldeo
The 2020 Outsider Art Fair took place on January 16th through 19th at the Metropolitan Pavilion on West 18th Street in Manhattan. Works by Fountain House Gallery artists were showcased at this international art event, as they have been for well over a decade of participation in the Fair, which is an eagerly anticipated annual happening.
What is "Outsider Art"? In the 1940s, the French artist and curator Jean Dubuffet coined the term Art Brut ("Raw Art") to describe "works produced by persons unscathed by artistic culture, where mimicry plays little or no part (contrary to the activities of intellectuals). These artists derive everything...from their own depths, and not from the conventions of classical or fashionable art." The late English art critic Roger Cardinal, a champion of Art Brut, referred to it as "Outsider Art" in his 1972 book on the genre. The term stuck.
The Fountain House Gallery booth (#D11), organized by FHG Advisory Board member Elizabeth Fiore and FHG Director Ariel Willmott, spotlighted a range of styles employed by artists Jorge Pablo Hernández, Roger Jones, Mercedes Kelly, Raymond Lopez, Angela Rogers, Alyson Vega, and Laura Anne Walker. Through the lens of the work, viewers at the Fair were transported into the internal worlds of these artists and had a window into the artists' universe and how they perceive their place in it.
Artist Alyson Vega
Both Angela Rogers and Alyson Vega make pieces utilizing fiber materials, transforming these from the familiar and commonplace to the magical and spiritual. At this year's Fair, Alyson's work focused on landscapes in earthy colors and geometric arrangements of bright and playful shapes. Angela's "poppets" are assemblages wrapped in multiple strands of yarn, imparting to these sculptural objects an aura of mystery and a narrative open to interpretation. In our booth at the Fair, Angela exhibited a new body of work, The Celestial Choir, depicting archetypes from the tarot, including effigies of protection. Angela has 35 years of experience in reading tarot cards in the East Village. The work of Angela and Alyson received laudatory mentions in press coverage of the Fair.
/
Artist Angela Rogers
Also presented in the Fountain House Gallery booth were salon-style drawings by Jorge Pablo Hernández, Roger Jones, Mercedes Kelly, Raymond Lopez, and Laura Anne Walker. Jorge incorporates elements of architecture and engineering in his linear/geometric artworks, many of which express his vision of New York City. Roger finds inspiration in the architecture of the city and the people he encounters. Raymond draws scenes of an imagined and idyllic world around him, often including imagery from movies. Laura Anne's surreal and patterned drawings bridge the feminine sensibilities of Angela's and Alyson's work and the repetitive drawings of Roger. Mercedes Kelly's whimsical dogportraits have become a perennial Outsider Art Fair favorite.
Outsider Art Fair guest with artist Laura Anne Walker
Our booth drew many visitors, both first-timers and longtime supporters, including members of the FHG Advisory Board and Art Advisory Council such as Agnes Gund, President Emerita of the Museum of Modern Art (MoMA). We connected with friends from the prestigious American Folk Art Museum, and it was also gratifying to see firsthand that a number of our fellow community-based arts organizations continue to grow and thrive.
Frank Maresca – Director of Ricco/Maresca Gallery, FHG Advisory Board member, and curator of the current Fountain House Gallery exhibition We See You – each year hosts one of the most heavily trafficked exhibits at the Fair, and this year was no exception: The Ricco/Maresca booth displayed works by some of the most highly regarded artists of the "Outsider" world. Becca Hoffman, Director of the Outsider Art Fair, curated a Fountain House Gallery exhibition in 2018.
Our artists' work sold well and elicited much praise from attendees. All in all, the four-day Outsider Art Fair was, as always, a memorable experience for Fountain House Gallery and for its participating artists.