Happy Birthday, Fountain House Gallery
6/19/2020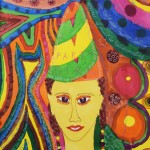 Happy Birthday, Fountain House Gallery
By: Camille Tibaldeo
Fountain House Gallery is a place where you can view fine works of art made by a group of excellent artists.
Agnes Gund, President Emerita, Museum of Modern Art (MoMA)
Happy birthday, Fountain House Gallery! Today we celebrate 20 years since we opened our doors. The gallery began with a handful of member-artists and over the years has grown to exhibit and support more than 150. A professional outlet where the artists can hone their art practice and build relationships, Fountain House Gallery has held over 200 vibrant in-house and external exhibitions, showing at prestigious venues such as the Outsider Art Fair, White Columns, and the American Visionary Art Museum. The promotion of our artists' work in the gallery, open studios, and outside exhibits showcases the value of artists with serious mental illness and builds awareness that aids in breaking stigma. We could not have come this far without the kindness, dedication, and support of our noteworthy partners, art collectors, distinguished curators, board and council, staff members, and dear friends. Stay tuned for information about our Fountain House Gallery 20th Anniversary show, opening in late July!